[center]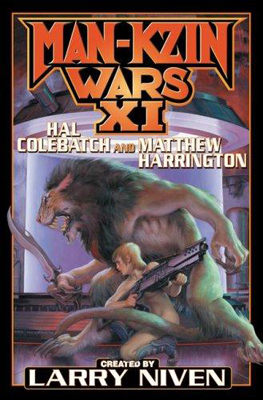 Larry Niven (Editor) - Man-Kzin Wars XI

Genre:
Science Fiction
Publishing House:
Pages:
496
Language:
English
ISBN-10:
1-4165-0906-2
ISBN-13:
978-1-4165-0906-6
Format:
EPUB, MOBI, AZW3, PDF, LIT, RTF, FB2, HTLMZ
Size:
12 MB
Hoster:

Uploaded / ShareOnline / FileFactory / SaleFiles
Description :
With the Stories:
Hal Colebatch: Three at Table
Hal Colebatch: Grossgeister Swamp
Hal Colebatch: Catspaws
Matthew Harrington: Teacher's Pet
Matthew Harrington: War and Peace
Larry Niven: The Hunting Park
The Kzin were the mightiest warriors in the galaxy, which they were wasting no time in conquering, one star system at a time. Then those feline lords of creation ran into those ridiculous weed-eating pacifistic apes who called themselves humans. And the catlike Kzin found they had their collective tail caught in a meat grinder. When the mighty Kzin moved in to take over the monkey-infested worlds, they got clobbered. The humans, with their underhanded monkey cunning, turned communications equipment and space drives into weapons that cut the dauntless Kzin heroes into ribbons. And then those underhanded humans gained a faster-than-light drive, and no amount of screaming and leaping could keep the Kzin from losing their first war in centuries of successful conquest. But you can't keep a good warcat down, and the Kzin have by no means given up. New weapons, new strategies, and new leaders. Here they come again and those monkey-boys from Earth had better watch their backs. Once again, it's howling time in Known Space!
Have fun while reading!
[spoiler]
Nur Mitglieder sehen diese Inhalte.
_________________
Reupps gibt es nur über den Melde-Button ->

!

<- wenn

alle

Links down sind
Passwort wenn benötigt
KarNo
Bei Entpackproblemen bitte die neueste WINRAR-Version verwenden